Whether you need a structure for horses, storage, livestock, cultivation, equipment, and more, you'll need a sturdy, functional, and trustworthy barn.
When trying to find the right product, many people feel they need to look for a "pole barn." This term is often used as a catch-all and may not be the type of building you want at all. Understanding the differences between pole barns and steel barns can help you make the best choice for your needs.
What are Pole Barns?
Pole barns are a simple barn type in which wooden poles or beams support the external walls and roof trusses. They are embedded in the ground and serve as vertical support pillars. Girts are used to add horizontal support to the structure. Pole barns are built using a technique known as post-frame construction or pole building construction.
What is a Steel Frame Barn?
Steel frame barns are made entirely of steel. They tend to be long-lasting, versatile, and durable. They are typically easier to maintain and often up to 40% less expensive to insure due to their strength.
By investing in a more durable structure, you will save money in the long run. Compared to a wood barn, you will need fewer repairs and less maintenance. Steel is also resistant to rot, decay, pests, mold, and more. A steel barn is a smart investment for the future of your farm.
Comparing Wooden and Steel Barns
If you're in the market to build a new barn and you're wondering what is the better choice – steel or wood – there are some real solid benefits to a steel barn that may help you with your decision.
Materials
In terms of materials, the cheaper option depends on the lumber market. Lumber prices are much more susceptible to price variations than steel prices, which remain relatively constant. Repair and replacements costs will always be higher with wooden pole barns as well just based on the fact that steel will always outlast wood.
Steel is one of the strongest building materials in the world. A steel barn withstands even the fiercest weather conditions and you will never have to worry about possible rot or structural shifting due to shrinking that is common with wood.
Space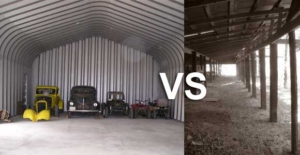 Unlike wooden pole barns, Future Buildings steel barns are truss-free allowing for full use of the interior. The bolt-together arch design of a steel building means you are working without posts, beams or columns taking up valuable space. You will have more room for the likes of livestock, grain or machinery in a Future Buildings steel barn.
Construction
As Future Buildings steel barns consist of pre-cut, pre-punched steel, you won't have to be a contractor to get the building up. A properly prepared foundation and a little help from family and
friends in your community with some basic DIY skills is all you will need. Most pole barns require skilled erectors to do the job which adds a lot to the overall cost of the project.
Once your barn is complete, you can extend it at any time. If you need more space to grow with your farm or business, steel barns are the easiest to expand. By simply adding more arches to the length your barn is bigger. It is a much more costly and labor intensive renovation to expand a wooden barn.
Safety
A very practical reality to consider is the fact that steel is less combustible than wood, making a Future Buildings steel barn less susceptible to fire damage than a wooden barn. This may be an advantage when it comes to insuring your new barn, so check with your insurance provider to compare the insurance premiums of a steel barn versus a wooden barn.
Maintenance
By nature wood ages and cracks as well as warps or swells from the effects of temperature and moisture. A great paint job will require touching up or repainting after a few years of exposure to the elements.
Advantages Future Steel Buildings Metal Barns Offer
Ease Of Assembly
All parts of our prefabricated metal barn kits are pre-measured and pre-cut, meaning you don't have to measure or alter anything. They also use the same nuts and bolts throughout the structure, making it easy to put each piece together. Your metal barn kit is delivered to your site completely ready to assemble.
Eco-Friendly
Steel can be recycled over and over without losing any of its structural strength. This gives you the confidence knowing that you have selected an environmentally friendly building material that will be recycled once it has reached the end of its working life.
Durability
Our metal barn kits are high-quality and provide protection from harsh weather conditions. They are also all designed to meet the codes in your area for seismic activity and snow loads.
Future Buildings Offers High-Grade Steel Barns
At Future Buildings, we have an expert team of engineers who will design and produce your steel barn to suit your needs. Each metal barn kit is long-lasting, dependable, and designed to keep your farm running smoothly. You can rely on them for long-term protection, and each one is backed by our 40-year rust protection warranty. Decade after decade, your steel barn will look as good as the day you completed it! Call us at 1-800-668-511 or fill out our online form to request a quote.